SELL-BY USE-BY BEST-BY
SOLO EXHIBITION AT NEVER COFFEE | OPENS MAY 19th, 2023



ON VIEW
MAY 19 - JULY 19, 2023

RECEPTION
THURSDAY, JUNE 29, 2023
7-9 PM

FOR INQUIRIES / TO PURCHASE
Please contact whereistoriwheeler@gmail.com





SELL-BY USE-BY BEST-BY is a show of tufted works inspired by the allure of an orange sale sticker. The packaged meat is marked down because it might have gone a little brown. The bright orange sticker pulls you in to investigate. Is it too far gone? You question your standards. What compromises do you make for a good deal? Does the thought of something spoiling make you uncomfortable? Do you identify with the imperfect cut of flesh? Regardless, you give in to the insatiable urge to poke the shiny shrink-wrapped filets in the refrigerated ambiance of the grocery store.

Packaged meats and tufted rugs share material bonds throughout their supply chain networks. A cow is hopefully (unlikely) raised lovingly, on a rural parcel of grassland. Its body is later processed and packaged in vacuum-tight styrofoam and plastic skin, ready for consumption. The combination of wool and acrylic yarn used in these pieces share the same contrast; the wool is sourced from sheep grazing on a New Zealand hillside while massive factories manufacture yarn from plastic-y chemicals. Both embody the natural beauty and the man-made horrors of industrial agriculture.

These works emphasize material and physical tactility –– it's deeply embedded in the process of rug tufting. The work itself isn't about material, it is innate. The weight and softness of the yarn, the depth of color, the way it loops and shags. There's meaning in the translation of shiny shrink wrap into soft cushy fiber. Both beg you to touch. You probably shouldn't poke the lambchop. You probably shouldn't touch the art. But you want to, and what's stopping you?

Tori Wheeler is an artist, designer, and dancer whose work is influenced by ecstatic human exchange, touch and tactility, music-and-nature-induced-trance-states, and a dash of trickster humor. Their creative practice mirrors that of a desire path. Tori holds a Bachelor of Fine Arts in Design from the Kansas City Art Institute and works as a textile artist, gold leaf gilder, and fairweather graphic designer.

The mid-exhibition reception for SELL-BY USE-BY BEST-BY will be held at Never Coffee on Thursday, June 29th from 7-9pm. Never Coffee is located in Portland Oregon's West End at 537 SW 12th Avenue. The exhibition will be on view through July 19th, 2023 and is free and open to the public from 7am to 6pm daily.



REDUCED
22"x37"
Wool and acrylic yarn
Felt backing
SOLD
Discount Rockfish
22"x37"
Wool and acrylic yarn
Felt backing
SOLD
Last Chance!
33"x44"
Acrylic yarn
Felt backing
$1000
$8.99 With Card
31"x42"
Acrylic yarn
Felt backing
$700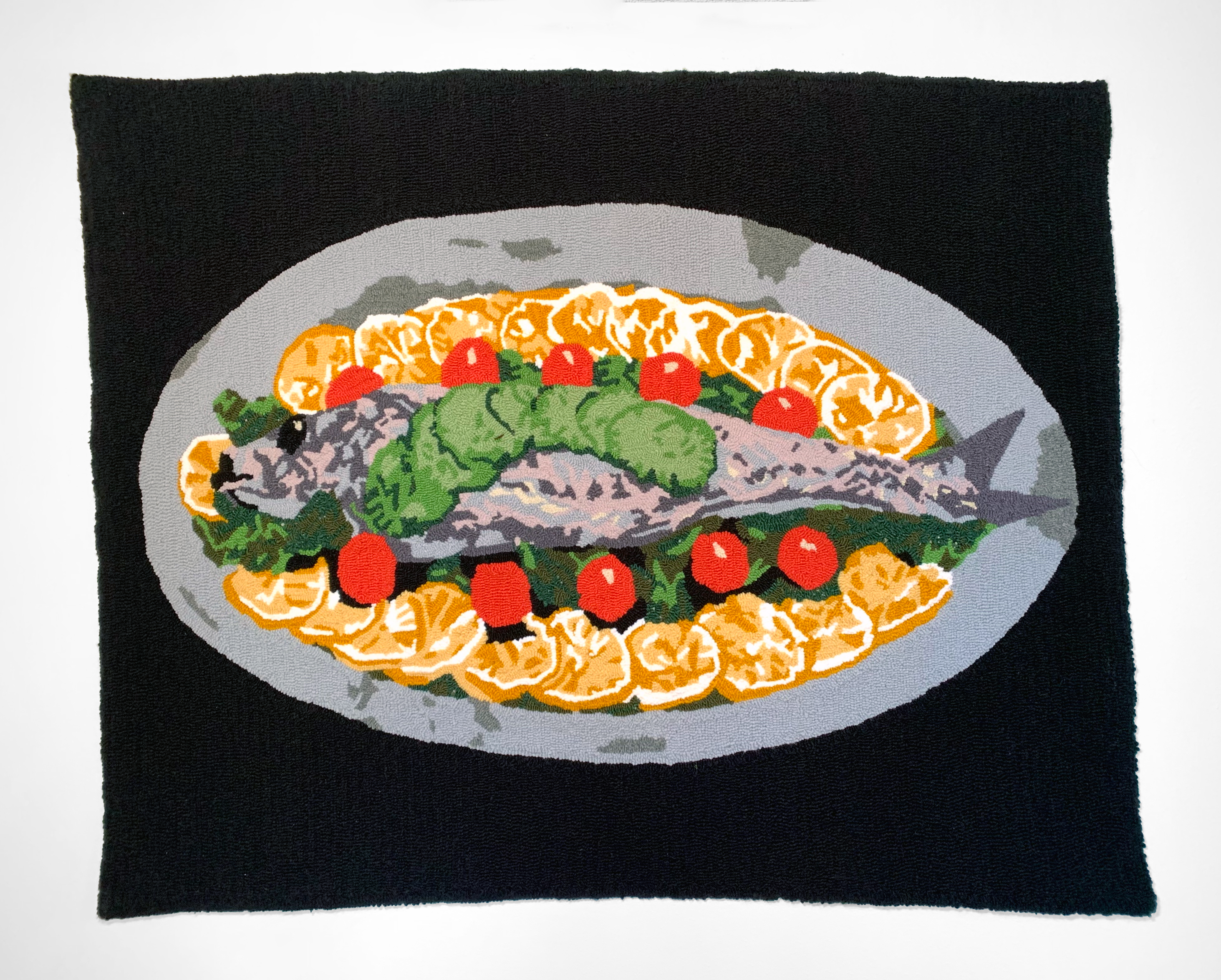 Feeds 2-4
45"x36"
Wool and acrylic yarn
Felt backing
$850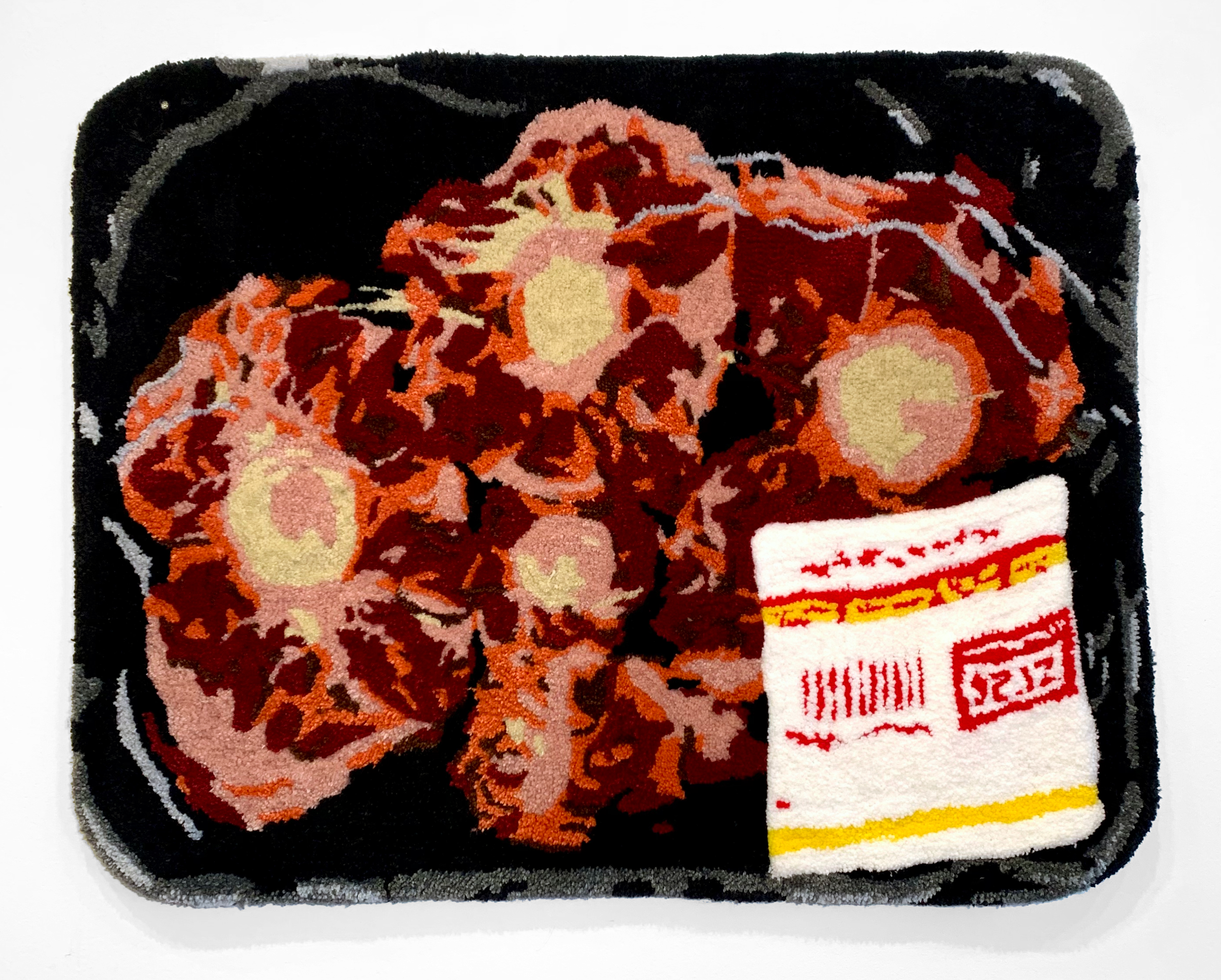 Oxtail Gentrification
31"x24"
Acrylic yarn
Felt backing
SOLD